The history of Iida, the puppet theater town
Birth of the "Iida Puppet Theater Carnival" based on traditional puppet theater
The "Iida Puppet Theater Festa" previously known as the "Iida Puppet Theater Carnival" began on the International year of the child, in 1979.
In Iida, known as a treasure house of traditional Joruri puppet theater and traditional performing arts, the thoughts of the "dreams and hopes of children" and a "national puppet theater festival" overlaps, regardless of being pros or amateurs, puppets lovers gather there from all over the country.
And with each edition, projects were created for the carnival one after another such as the puppeteer's town parade, the puppet window exhibition, etc. The number of participating puppet troops, performances and exhibitions grew every year.
In 1986, the UNIMA asia assembly was held and asia's puppeteers gathered for the first full-fledged international puppet theater festival.
In 1988, the World Puppet Theater Festival was held on the 10th anniversary of the carnival.
On the same year, a puppet theater dedicated to puppetry was opened.
A city friendship cooperation was concluded with Charleville-Mezieres in France, where the UNIMA (International Puppet Theater Union) headquarters are located.
In 1998, the "World Puppet Theater Festival" was held to celebrate the 20th edition of the carnival.
However, the carnival came to an end on the same year.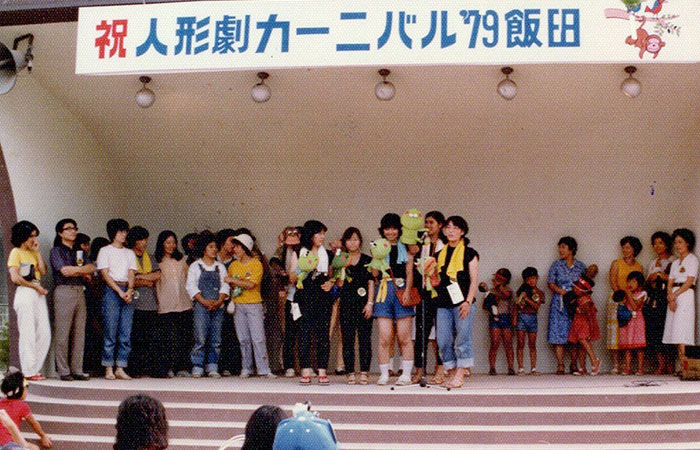 Birth of the "Iida Puppet Theater Festa" centered around its residents
In 1999, the resident centered "Iida Puppet Theater Festa" was reborn.
This festival is about all of its creators getting involved independently.
In 2000, from the 2nd edition, themes such as "Family Rediscovery", "It's puppet theater so it's interesting", etc. were chosen every year.
Special features themes such as large size puppets show, shadow play or string puppet were also created.
In addition, from the suggestion of an executive committee member an initiative focusing on the various sides of puppet theater was born, the "first puppet theater encounter" for small children, the "welcome puppet exhibition" using every store's specialty, a panel discussion to study the meaning of children performing puppet shows, etc
In 2008, the "World Puppet Theater Festival" was held to celebrate the 10th anniversary of the festa. 
A "main ceremony" was held looking back at "30 years of puppet theater city" and the "The Three East Asian Puppet Theater Festival Friendship Ceremony", celebration events, etc were held together with Korea's Chuncheon Puppet Theater Festival and Taiwan's Yunlin International Puppet Theater Festival
In addition, the festa's mascot character "Po" who performs as the festival's face was born on the same year.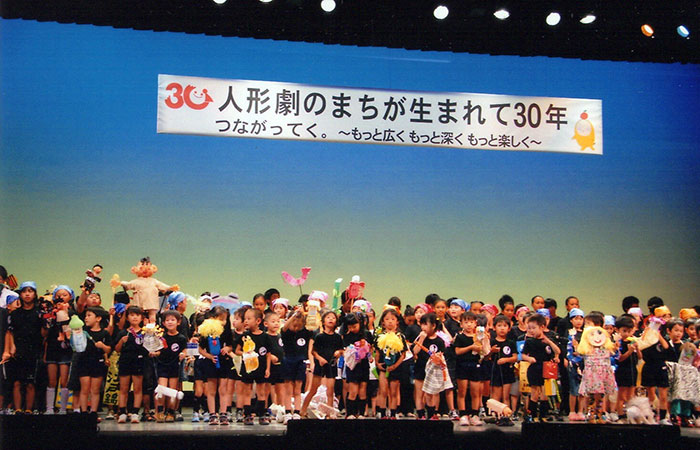 Puppet theater activities' enhancement and world cooperation by the residents
Since 2010, various puppet theater courses have been held, and resident's puppet theater activities became popular.
In 2013, the Iida Puppet Theater Center non-profit organization was established, it has produced the puppet shows of "The Little Mermaid"(2015-2019), the giant puppet "Sansho"(2017-2018), etc. The puppet shows performed by the residents were also noticed during the festival.
In 2011, Iida city established together with 21 cities from 15 different countries around the world the international association of puppet friendly cities "AVIAMA" and it began the exchanges within the world's puppet theater supporting regions
In 2013, the Asia Puppet Theater Festival was held for the 15th anniversary of the festival as well as a mutual exchange workshop to learn about each Asian countries' puppet theater.
In 2016, an international collaboration production was done with Poland and this work is still being performed in Poland's theater till this day.
From 2014, regional special editions were held (Hokkaido, Aichi, etc) reinforcing the various regional cooperation nationwide.
In 2018, the World Puppet Theater Festival was held to celebrate 40 years since the birth of the puppet theater city. 
Various puppet theater shows were played with the participation of 28 puppet troops from all six continents of the world.
In addition, the AVIAMA general assembly was invited in accordance with the world fes to increase its presence as an international puppet theater city.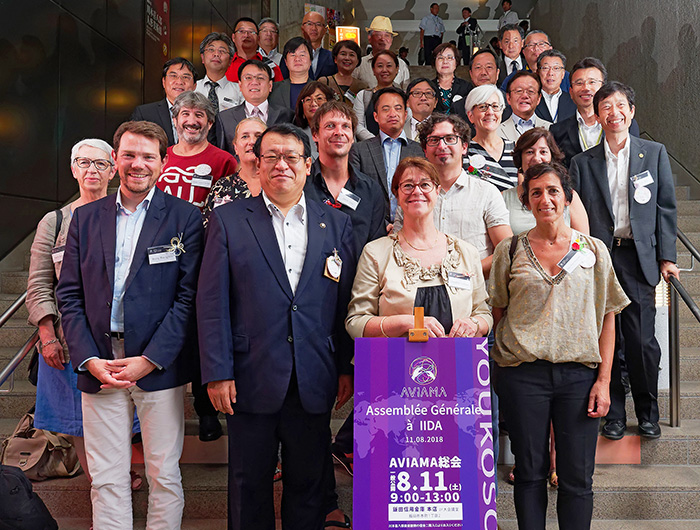 Awards received
| Date | Award name | Sponsor |
| --- | --- | --- |
| 24/10/1987 (Showa 62) | UNESCO 40th Anniversary Private Award | National Federation of UNESCO Associations in Japan |
| 09/05/1988 (Showa 63) | 23rd Mobil's Children's Culture award | Mobil Sekiyu K.K. |
| 23/06/1988 (Showa 63) | Suntory Regional Culture Award | Suntory Culture Foundation |
| 10/11/1988 (Showa 63) | Director General of National Land Agency's award | National Land Agency |
| 03/05/1989 (Heisei 1) | Nagano Prefecture's Governor Award | Nagano Prefecture |
| 18/04/1989 (Heisei 1) | 5th All Japan Event Grand Prize Encouragement Award | Intercross Research Institute |
| 03/03/1992 (Heisei 4) | International Exchange Fund Regional Exchange promotion award | International Exchange Fund |
| 1994 (Heisei 6) | Hometown Development Promotion and Encouragement Award | |
| 01/08/1994 (Heisei 6) | 1st Excellence Tourism Land Development Award | Japan Tourism Association |
| 09/01/1996 (Heisei 8) | Minister for Home Affairs Award | Ministry of Home Affairs |
| 15/03/1999 (Heisei 11) | 21st Yuzo Yamamoto Local Culture Award | Ishikawa Cultural Business Foundation |
| 15/04/2002 (Heisei 14) | 6th Hometown Event Grand Prize Excellence Award | Local Community Vitalization center- 58 Newspapers |
| 07/02/2005 (Heisei 17) | 10th NHK Kanto Koshinetsu Regional Broadcasting Culture Award | NHK Japan Broadcasting Corporation |
| 26/10/2005 (Heisei 17) | Shinshu Brand Award 2005 Grand Prize | |
| 2005 (Heisei 17) | 7th Excellence Puppet Theater Recognition System Special Award (Azalea Award) | |
| 06/07/2009 (Heisei 21) | 16th Shinmai Award | The Shinano Mainichi Newspaper – Shinmai Cultural Corporation |
| 18/01/2012 (Heisei 25) | Regional Development Grand Prize, Minister of Internal Affairs and Communications Award | Regional Development Foundation |
| 23/01/2015 (Heisei 27) | Regional Revitalization Grand Prize Kanto Koshinetsu Block Award | 46 Local Newspapers- Kyodo News |
Poster and patch history
The chronology of the posters (from 1980) and patches (from 1979) which have been popular as the Festa's face have visuals transmitting the fun of puppet theater as well as Iida's image. You can also see a lot of designs reflecting their year's theme.
Please look at it in the gallery format.
Photo Gallery